Introducing our delightful 3D Printed Smiley Stamps – the perfect way to add a touch of joy and personality to your projects! Available individually or in a set, these stamps are not just tools; they're a celebration of happiness and creativity.
Key Features:
Expressive Smiley Designs: Each stamp boasts a charming smiley face that brings a cheerful vibe to your creations. These adorable designs are sure to put a smile on your face and those of anyone who sees your finished projects.
Individual or Set Options: Customize your crafting experience by choosing individual smiley stamps or opt for the set to mix and match expressions. The set offers a range of emotions, allowing you to convey different moods in your creations.
Embedded Alignment Guide: Craft with precision and ease! The back of each stamp features an embedded image of the smiley, ensuring effortless alignment every time you stamp. Achieve professional results without the hassle.
Durable 3D Printing: Our stamps are crafted with care using 3D printing technology. The durable construction ensures that these stamps will be a reliable and long-lasting addition to your crafting toolkit.
Versatile Applications: Whether you're working with soap, polymer clay, soap dough, fondant or other materials, these smiley stamps are versatile enough to enhance a variety of projects. Let your creativity shine in soap making, jewelry design, cookie making, and more.
Compact and Easy to Store: The compact size of these stamps makes them convenient to store in your crafting space. Each stamp is 3cm wide x 1.4cm tall. Bring them out whenever inspiration strikes, and easily tuck them away when not in use.
Great for All Ages: Perfect for crafters of all ages, these smiley stamps add a playful element to DIY projects. Encourage creativity in kids or add a whimsical touch to your own creations – the possibilities are endless!
Add a dose of happiness to your crafting endeavors with our 3D Printed Smiley Stamps. Elevate your projects with these charming expressions and let your creativity shine bright!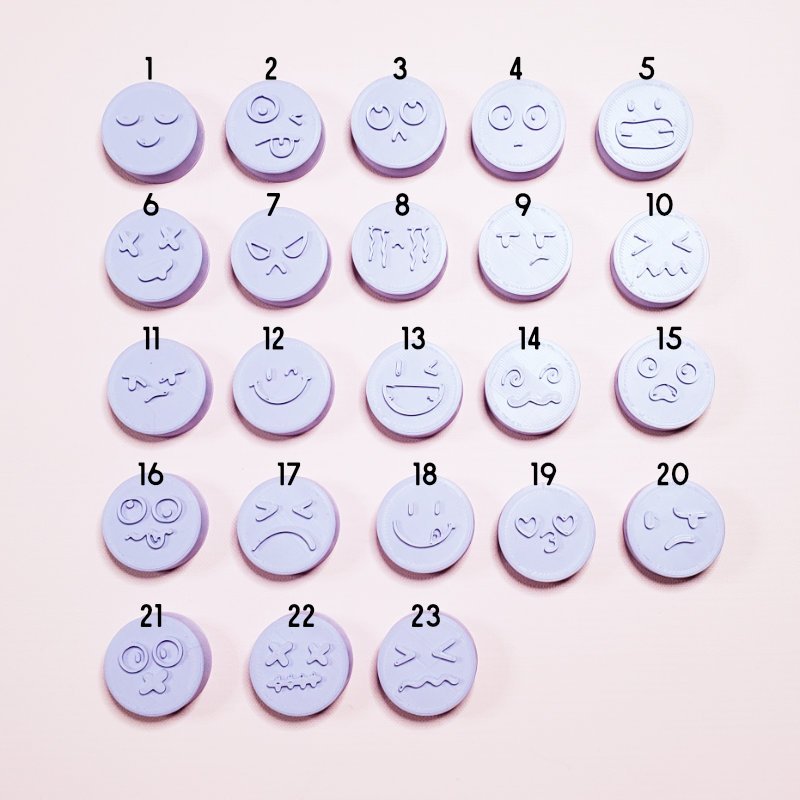 This is a print on demand item. Sometimes we have stock ready made and this will be used in your order first. When your order comes in, it will be placed in the print queue. You could be first in the queue, or 14th. Larger items can take up to 17 hours to print so please allow this in your timing.
PLA (what these 3D printed items are made from) is not plastic, but a thermoplastic polyester made from fermented plant starch using renewable resources. PLA is biodegradable & environmentally friendly.
3d printing is 'additive manufacturing' meaning there is no waste when creating your items.
Inclement weather can sometimes affect the dimensions of a 3d print. This means you may receive a print with sanding on one or more edges. This is done to ensure a smooth fit with the other pieces of the mould (i.e. bath bomb cups sliding through the exterior smoothly).
These items are 3D printed and do not deal well with heat. Do not place in dishwasher. Please make sure to clean using cool water. For best results, use dishwashing liquid and cool water and wash with a non-abrasive pad. Do not leave soaking in water.
3d printed items hold a whole mess of static electricity. Give them a wipe down with isopropyl alcohol and a paper towel to remove any dust or fuzzies they will have inevitably picked up from somewhere in the universe.
Only logged in customers who have purchased this product may leave a review.
Subscribe to the mailing list to receive updates!
Sign up to the newsletter to get updates, blog posts, store coupons and more.
Don't worry though, there's no spam included!
3dprint, shaper, stamp, bathbomb, shampoobar, moulds, extrudertool, kaleidoscope, soaptool, candletool, wicktools, pullthroughtool, filament, foodsafe, claycutter, sprinklesheet, shrinkwrapopener, smallbusiness